Caroline's Necklace from Two Broke Girls: How To
About, oh 6 months ago, I said I would do a tutorial on how to do Caroline's necklace. I'm not much of a vlogger and tutorials written can be pretty lengthy, so I've been putting it off. I will do a short and sweet run through of how to do this necklace and include certain youtube links that will teach you the techniques needed.
Close up picture- below is one I made a few months ago
This necklace does take a while to make and certain parts can be a bit tedious. With that being said, take your time making it because you want all the sets of pearls to be equal in length. You also want to make sure that the circles you make with the eyepins don't come out sloppy.
Let's get to it...to make this necklace
You will need:
1. Chain of your preference. This is a statement necklace and with the amount of pearls you will be hanging from it, you don't want to select a dainty chain that won't be able to support the pearls, so keep that in mind.
2. Gold Eyepins
You can find these at any arts and crafts store, such as Michael's.
3. Gold Headpins
4. Two different sizes of pearls
Larger pearls sit on top with the smaller pearls hanging below. Ivory or white pearls, whichever your prefer. I like to have brighter pearls for this necklace so I choose white.
5. Jewelry clasp/closure piece.
I recommend using a toggle for this necklace
6. Round nose pliers
7. Chain nosed pliers
8.
Gold split jump rings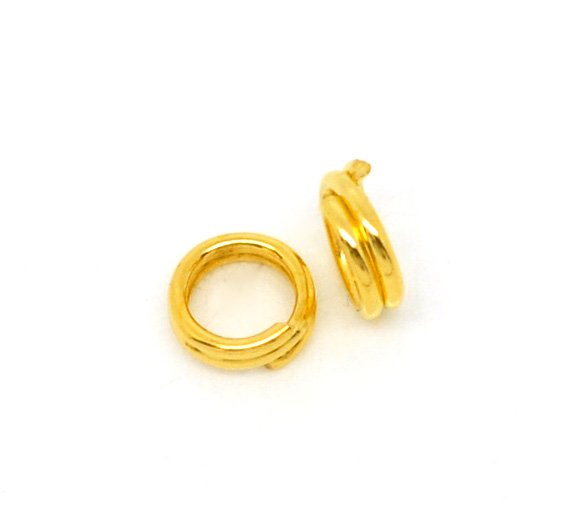 You will also need
to watch this youtube video in order to know how to create the sets of pearls. You will need to know how to create circles using round nosed pliers, which is why I am including this youtube link:
http://www.youtube.com/watch?v=OCBJnOeXwds
After watching this video and practicing a few times, you should have an idea of how to make the circles.
You are going to take your smaller pearls and put all of those onto the headpins. I make
18
sets of pearls when I do this necklace. You are then going to cut some of the wire off of the remaining headpin and form a circle, (which you learned how to do in the youtube video) which will attach to the eyepin. You will take your larger pearls and put those on the eyepins. You will connect the small pearl that is on the eyepin to the larger pearl on the headpin by making circles with the wire.
Cut a piece of chain, approx 12 inches long
Cut a second piece of chain, approx 10 inches long

Take two split gold jump rings and attach your chain to the jump rings, making a 2 layer necklace.

You should have the shorter chain on top, longer chain on bottom.

Once this is done, start attaching the pearls to the chain. Start from the center and work your way outwards, making sure each side is matching up.


I did my best to explain this with just words. Maybe one day I will post my own video. Until then, good luck with your necklace!



ps- if you haven't made jewelry before you will find this necklace challenging. Let me know in comments or email if you need more help.